TEAMS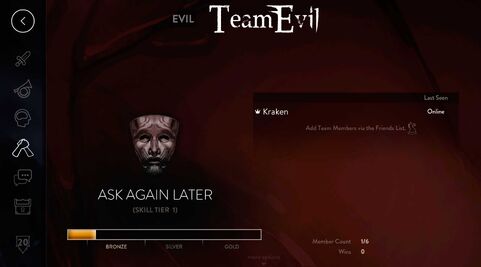 "The Vainglory competitive scene has advanced far faster than we ever anticipated. From massive March
Madness-style 128-team VGL tournaments to the Vainglory International Premier League (VIPL) live in Seoul on Korean TV to big-name organizations forming pro Vainglory teams, this is getting very real, very fast. To support the rapid expansion of Vainglory eSports and give every Vainglory player — regardless of skill tier — a taste of the fame and glory, we're formalizing teams within the game.
"These teams of up to six players can push for competition-based and win-based rewards no matter what their skill level. That said, the new team skill tier will be used to qualify teams from in-game to actual big tournaments with sizable prize pools, and your team ranking will also help determine your seeding within those tournaments. So, playing and training as a formal team will be essential, whether you're the world champion GankStars Sirius or a brand-new team with a faint dream of playing under the bright lights.
"Just like guilds, forming a team will require ICE or Glory to prevent spam team creation and make sure players are ready to throw down in Ranked. We've deliberately set the team max at six players to ensure that you can run 3v3 scrims within your team. And while you might also independently belong to a guild, being a member of a team means you're aiming to be the best you can and are playing to win. So, pick teammates wisely, play to unlock win-based rewards and make a name for yourself in the Fold." —PlayoffBeard
TEAM BASICS
Create or join one team, which contains up to six players. All team members must be in the same server region.
Teams will have special rewards based on competition & wins — and your team skill tier will qualify teams for major tournaments and help determine their seeding.
Each team has its own dedicated text chat channel that appears above common friends for easier communication and strategizing.
Each team has its own in-game overview with art, statistics and other information.
Your Friends and Party lists will prioritize teammates. Note: You do not need to be in-game friends with a teammate to see them on your list. 
This update lays the early foundation for in-game teams, but our competitive vision is too expansive to fit in a single update. It all starts here, but if you have a well-established team in future updates, you will be well rewarded with opportunity and prestige.
Teams will also gain a player tag when there is a full 3-person team, for example: sPiT-Wolfthorn420, sPiT-twinsolution, and sPiT-Armantos will appear as your character's tags in a match. This includes casual, private, and ranked matches.
Team tags (sPiT-) will priortize Guild Tags (VWW_) in a match if all players are the team, even if they're in the same guild.
Ad blocker interference detected!
Wikia is a free-to-use site that makes money from advertising. We have a modified experience for viewers using ad blockers

Wikia is not accessible if you've made further modifications. Remove the custom ad blocker rule(s) and the page will load as expected.