SKAARF
SKAARF

Stats

    Health
632 (+78)
    Energy
200 (+24)
    Armor
20 (+6)
    Shield
20 (+6)
    Weapon
74 (+6.8)
    Atk speed
1 (+)
    Range
5.5
    Move speed
3.3
Skaarf


Attack Type: Ranged
Position: Lane / Mage
Role: Mage
| | | | |
| --- | --- | --- | --- |
| Hit Points (HP) | 632 (+78) | HP Regen | 3.55 (+0.35) |
| Energy Points (EP) | 200 (+24) | EP Regen | 1.33 (+0.16) |
| Weapon Damage | 74 (+6.8) | Attack Speed | 1 (+) |
| Armor | 20 (+6) | Shield | 20 (+6) |
| Attack Range | 5.5 | Move Speed | 3.3 |
SKAARF
Skaarf blazes his way through the fold, incinerating everything in his path. He specializes in powerful abilities that set his enemies on fire, bringing them down from a distance.
Skaarf is a cute little flamethrower who thrives at dealing long-range and area-of-effect(AOE) damage, especially during teamfights. However, his abilities are aimed, meaning you'll need quick reflexes and good prediction to land those fireballs. Start Skaarf in the lane and burn your way to glory.
Strategy
When laning, it's totally ok to use your Spitfire occasionally to strike the killing blow on minions you'd otherwise miss. However, the cooldown and energy cost make it prohibitive to use this frequently, so you'll also need to practice with Skaarf's shorter-range basic attack.
Nearby enemy minions make it more difficult to land Spitfire on enemy heroes. Instead of taking shots that aren't likely to land, consider saving your energy or maneuvering to get a cleaner shot.
Skaarf has few tools to escape from ambushes, particularly against nimble heroes, so it's often a good idea to play it safe early on instead of moving into danger just to line up Spitfire shots. However, if you're ok with the risk, you can use this kind of posturing to force the enemy to move to cover, and possibly into more favorable positions for your team.
If you need to apply pressure to the lane, or otherwise buy time to move elsewhere, consider igniting a pool of goop under enemy minions. This is energy intensive and won't consistently land killing blows but it's a quick option when you need to leave.
| Slot | Name | Abilities | Description |
| --- | --- | --- | --- |
| Heroic Perk | Fan the Flames | | Skaarf's fire-based abilities light the target ablaze, burning enemies for 1.5% of their max health for 3.5 seconds. Each of Skaarf's basic attacks will refresh the burn duration by 2 seconds, and increase the damage of the burn by another 1.5%, up to 10% per second. Damages-per-stack increases by 1% for every 100 crystal power. Deals reduced damage to Kraken and structures. |
| A | Spitfire | | Skaarf spits a fireball that burns and damages anything in its path and collides with the first hero, structure, or boss monster it hits. Each target the fireball passesvthrough reduces its damage by 66%. Deals reduced damage to turrets if out of range. |
| B | Goop | | Skaarf hurls goop onto the target location. Enemies walking through the sticky substance are slowed. Skaarf's fire abilities (including nearby flaming goop) will set the goop pools ablaze with a burst of damage that extends slightly beyond the gooped area. Once aflame, a gooped location will not slow as much but will apply damage over time. Deals half damage to minions & Kraken. |
| C | Dragon Breath | | Skaarf inhales deeply for 1.5 seconds, slowing fleeing enemies and accelerating closing allies. Skaarf then exhales flame for 3 seconds, incinerating enemies in a cone in front of him. While exhaling, enemies moving against the flame are slowed while allies moving with the flame are accelerated. Skaarf may move freely while spewing fire, but he cannot basic attack or use other abilities. Each time Dragon Breath is upgraded it adds shield piercing to the exhale damage. |
SKAARF SPOTLIGHT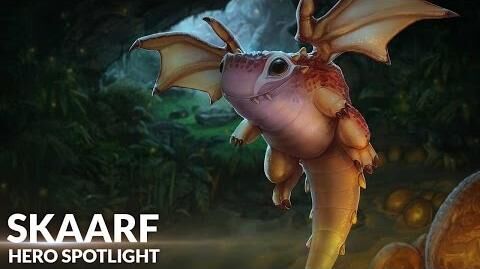 SKAARF SKINS
INFINITY SKAARF SKIN TIER 1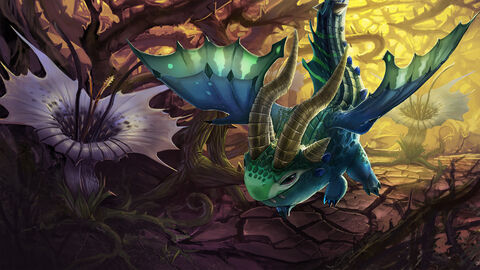 INFINITY SKAARF SKIN TIER 2

THIS PAGE WAS EDITED BY NʘʀtɦɪcɑN (talk) 21:26, October 13, 2015 (UTC)
Ad blocker interference detected!
Wikia is a free-to-use site that makes money from advertising. We have a modified experience for viewers using ad blockers

Wikia is not accessible if you've made further modifications. Remove the custom ad blocker rule(s) and the page will load as expected.