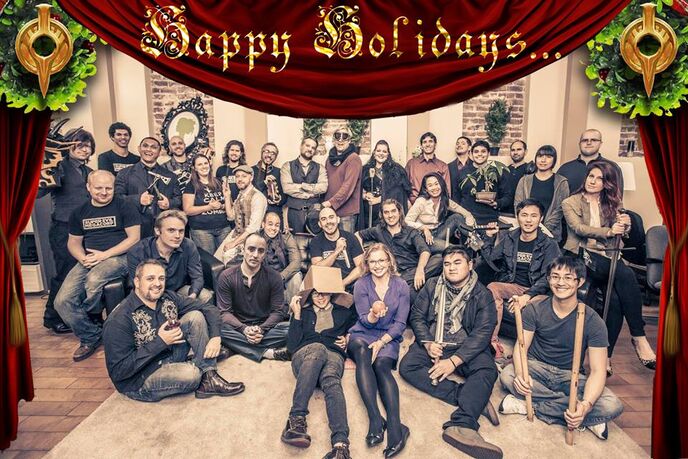 .
Headquartered in San Mateo, California, Super Evil's team includes masters-at-their-craft developers from Riot Games, Blizzard Entertainment, Rockstar Games, Guerrilla Games, Playfish and more.
BO DALY

Co-founder & CEO Previously at Rockstar Games and Gazillion, Bo captains the ship while moonlighting as head of platform engineering.

Player name: Nansen

TOMMY KRUL

Co-founder & CTO Previously at Riot Games, Gazillion, Factor 5 and Guerilla Games, Tommy is the architect of the E.V.I.L engine and technology approach. 

Player name: TheRealKrul

STEPHAN SHERMAN

Co-founder & CCO Previously at Riot and Gazillion, Stephan answers for all of creative and design while heading up gameplay programming.

Player name: CaptainNeato

Q WANG

Co-founder & CPO Previously at Playfish and a mean RTS player, Q runs all aspects of product management while also running front-end user interface coding.

Player name: SurpriseBirthday

KRISTIAN SEGERSTRALE

COO & Executive Director Previously CEO at Playfish, EVP at EA, co-founder at Glu Mobile and on the board of Supercell, Kristian sticks his nose into most things, especially around marketing, growth and how we work together.

Player name: EdTheShred

JASON OSIPA

Lead Technical Artist Previously at EA, LucasArts and Dreamworks, Jason brings his encyclopedic knowledge of 3D Production to our growing art group.

Player name: doer

CARLO ARELLANO

Art Director Previously at Blizzard, Ready at Dawn and Insomniac, Carlo oversees art at Super Evil Megacorp through his expertise in concepting, design and character creation. 

Player name: Chainsaw

JEROME DE MENOU

Sr. Animator Previously at SuperBot Entertainment and Ready at Dawn. Jerome worked his magic on the God of War franchise and now breathes life and personality into our characters.

Player name: Margouillat

MATT HASSENPLUG

VFX Artist Previously at Insomniac working on the Ratchet and Clank franchise, Matt brings his signature visual effects style to the world of Vainglory and beyond.

Player name: Conductor

TRACEY KING

Lead Environment Artist Previously at Sanzaru, Backbone and EA, Tracey answers for the uniquely crafted touchable look of the Vainglory environment. 

Player name: EvilOnTheInside

JOHN HAYES

Lead Character Artist Previously at Capcom, Sega and Sony, John uses his deep expertise in sculpting, illustration and animation to spawn new characters at Super Evil Megacorp.

Player name: boomstick

EVAN DENBAUM

Sr. Director, Content Strategy Previously at EA, OnLive, PlayStation Network, WWE and The Sporting News, Evan brings journalistic expertise and a passion for sports to overseeing all content and editorial. 

Player name: PlayoffBeard

MARK TORELLI

Director of Finance and Administration Previously at Xero and The Parkinson's Institute, Mark combines his zeal for Finance and multiplayer gaming to drive our day-to-day operations. 

Player name: Fury

PATRICK "CIDERHELM" O'CALLAHAN

Director of Video Programming A celebrated creator of some of the most popular World of Warcraft and League of Legends content, Patrick leads all our video production.

Player name: Ciderhelm

RUSS SCHAAF

Sr. Technical Engineer Previously at Rockstar Games for more than 11 years spanning multiple platform transitions and AAA title launches, Russ works on the E.V.I.L.™ game engine and other server-related game code. 

Player name: Mightier

HEINI VESANDER

Marketing & Communications Director Previously heading up communications at Supercell, Heini brings her international experience, energy and ability to be in multiple places at once to the team.

Player name: EvilFinn

ANDRE BRISCO

QA Tester Dedicated to computer gaming since early childhood, Andre brings his meticulous QA skills and passion for MOBA gameplay into our every day testing cycle.

Player name: UebelAndre

ALEXANDER WALLISCH

Senior Gameplay Engineer Previously at 2K, Electrified Games, and KIXEYE, Alex joins the team at Super Evil bringing his talent for gameplay engineering, passion for robust design, and advocacy for the hardcore player.

Player name: awalltoo

MICHELLE HARDY

Artist A recent graduate from Laguna College of Art and Design, and having previously worked at Up Up Down Down Games, Michelle gives life to our creations though illustrations and concepts. She's always had a passion for video games and fine art.

Player name: Noxii

DANTE FALCONE

Production Director Dante brings his eclectic skill mix spanning the full gamut from coding to QA and production from studios including Zenimax and Gazillion to head up Production and QA at Super Evil Megacorp.

Player name: BlasterMaster

ISAAC EPP

Director of UX Design Most recently the user experience design supremo behind The Sims 4, Isaac brings his incredible passion and 3rd degree black belt to help make the overall experience of playing Vainglory ever more understandable and delightful.

Player name: Kraken

PAUL CONSTANTINEQA Lead

Previous work includes QA at XBOX, EA, Glu and Zynga on everything from AAA titles to free to play. Paul has also built custom gaming pc's which have been reviewed in magazines and websites.

Player name: Badash

CHAD MOWERY

Sr. Engineer Previously at Machine Zone building massive multiplayer games, Chad is master of many glorious pursuits of diverse ingenuity. He brings his talents to the E.V.I.L. game engine to ensure world domination.

Player name: HandBananas

JUSTIN MURRAY

Sr. Concept Artist Having previously done concept art for Mortal Kombat X and God of War among others, Justin helps the team deliver ever more epic Heroes to the Halcyon Fold.

Player name: justInsane

TREVOR SILVERNAIL

Sr. UI Engineer A true master of the craft of UI engineering, Trevor has masterminded UI for titles such as America's Army and Marvel Heroes. Trevor now exercises his dark arts to make Vainglory both beautiful and usable.

Player name: TCheezy

UYEN UYEN TON NU

Marketing & UA Director Most recently at EA and OnNet, Uyen combines an unholy mix of mastery of quantitative methods and rare creative flair to create marketing strategies that are downright evil at Super Evil Megacorp.

Player name: ReadyPlayer1

GEORGE "ZEKENT" LIU

Video Community Manager A former professional League of Legends player and coach for Team Curse and prolific Twitch streamer, George masterminds the video creator community for Super Evil while contributing his pro skills to hero and gameplay balancing..

Player name: ZKNT

EDWIN BAKKER

Sr. VFX Artist Edwin has a distinguished history of groundbreaking VFX at Guerilla games and Lucas Arts, and is passionate about squeezing maximum visual impact out of hardware without compromising game play. The Halcyon Fold is filled with his work.

Player name: Fizzler

GLORY CHOE

Sr. L10n & Community Mgr Glory is a hyper localization expert and a competitive Counterstrike player. Most recently masterminding localization QA at Zynga, Glory brings her passion for player experience and localization to the ranks at Super Evil.

Player name: Domofurious

TAEWON YUN

General Manager, APAC Taewon is the mastermind of APAC. He has led the Asian invasion of Blizzard, EA and Wargaming before finding a home at Super Evil. Taewon leads the charge of Vainglory's entrance to the Asia Pacific region.  

Player name: MrBurnz
Ad blocker interference detected!
Wikia is a free-to-use site that makes money from advertising. We have a modified experience for viewers using ad blockers

Wikia is not accessible if you've made further modifications. Remove the custom ad blocker rule(s) and the page will load as expected.