Play
This tab(found in the Main Screen)  will take you to the play screen. There are four(sometimes less depending on level and/or ranked requirements not met) options that you can choose.

Casual Match
"Play public matches for fun" <p style="font-weight:normal;font-size:14px;line-height:22px;">This will bring you to a 3v3, all random player match. Match times may vary depending on your recent abadonment, and you never know who you're going to play with or against, as it's completely random. So beware of deserters and n00bs.
Ranked Match
"Compete for skill tier prestige"
This will bring you to the ranked match finder. Ranked is based on how well you play, and your skill tier can go up or down, based on who you win or lose to.
Practice
"Improve your skills"
This will bring you to Practice's screen, which will in turn have 4 more options.
Party
"Play together"
This mode is a form of Play that can be Casual, Ranked, or a new mode, Private. There can be up to three players in a party to search for a Casual or Ranked match, and up to 10 for Private. This is often used by active Teams and Guilds to practice strategies, builds, and other things, as there are no end of game rewards for private matches. To invite players to a party, they must have a green dot, paper(Guild), or Horse(Team), next to their name. Hit the + button, and they will receive a party invite message with a check and an x, informing them of who wants them to join their party.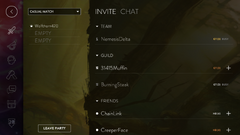 Ad blocker interference detected!
Wikia is a free-to-use site that makes money from advertising. We have a modified experience for viewers using ad blockers

Wikia is not accessible if you've made further modifications. Remove the custom ad blocker rule(s) and the page will load as expected.